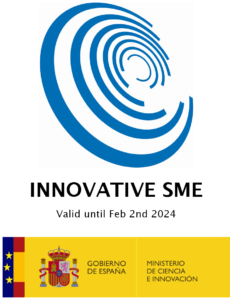 NUTAI has been officially recognized by the Government of Spain and the Ministry of Economy and Competitiveness as INNOVATE SME.
According to Article 6 of Real Decreto 475/2014, of June 13, on bonuses in Social Security contributions for research personnel is understood as INNOVATE SME an SME with intensive activity in R + D + i, and attending to some of the following circumstances:
– Funding Resources.
– Recognition and results of innovative activities.
– Ability of Innovation.
INNOVATE SME stamp has been created to promote research, development and innovation in Spain, regulating their production in the Ministerial Order ECC / 1087/2015, of 5 June.
Its concession to NUTAI reflects the recognition of the important role of small and medium enterprises in the development and economic growth. This initiative seeks to promote in the framework of the Spanish economy a productive model in which innovation is built in as a systematic activity and to align the Spanish strategy to the European, which aims to create new working lines that allow for growth and sustainability of those SMEs as NUTAI, who bet on innovation.