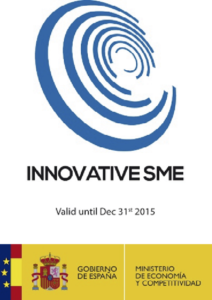 NUTAI has been awarded the title of PYME INNOVADORA by the Spanish Government and its Ministry of Economy and Competitivity.
The definition of PYME INNOVADORA (INNOVATIVE SME) can be found in the Real Decreto 475/2014, of 13 June, Article 6 and in Recomendación 2003/361/CE de la Comisión, of 6 May, where PYME (SME) is defined.

R&D&I RECENT ACTIVITY

NUTAI is part of an innovative business group programme (AEI Agrupaciones Empresariales Innovadoras).
2014-2015 Participation in AEI in the project: "Plataforma de asignación de emisiones de CO2 en Proceso Industrial".
2015 NUTAI Foundation, created by the NUTAI company in early 2015, is been created with the objective of promoting R & D initiatives in the industrial sector, particularly the lines of action of the entity are centered the Industrial Automation and in all those projects where Energy Efficiency is the origin of its development.